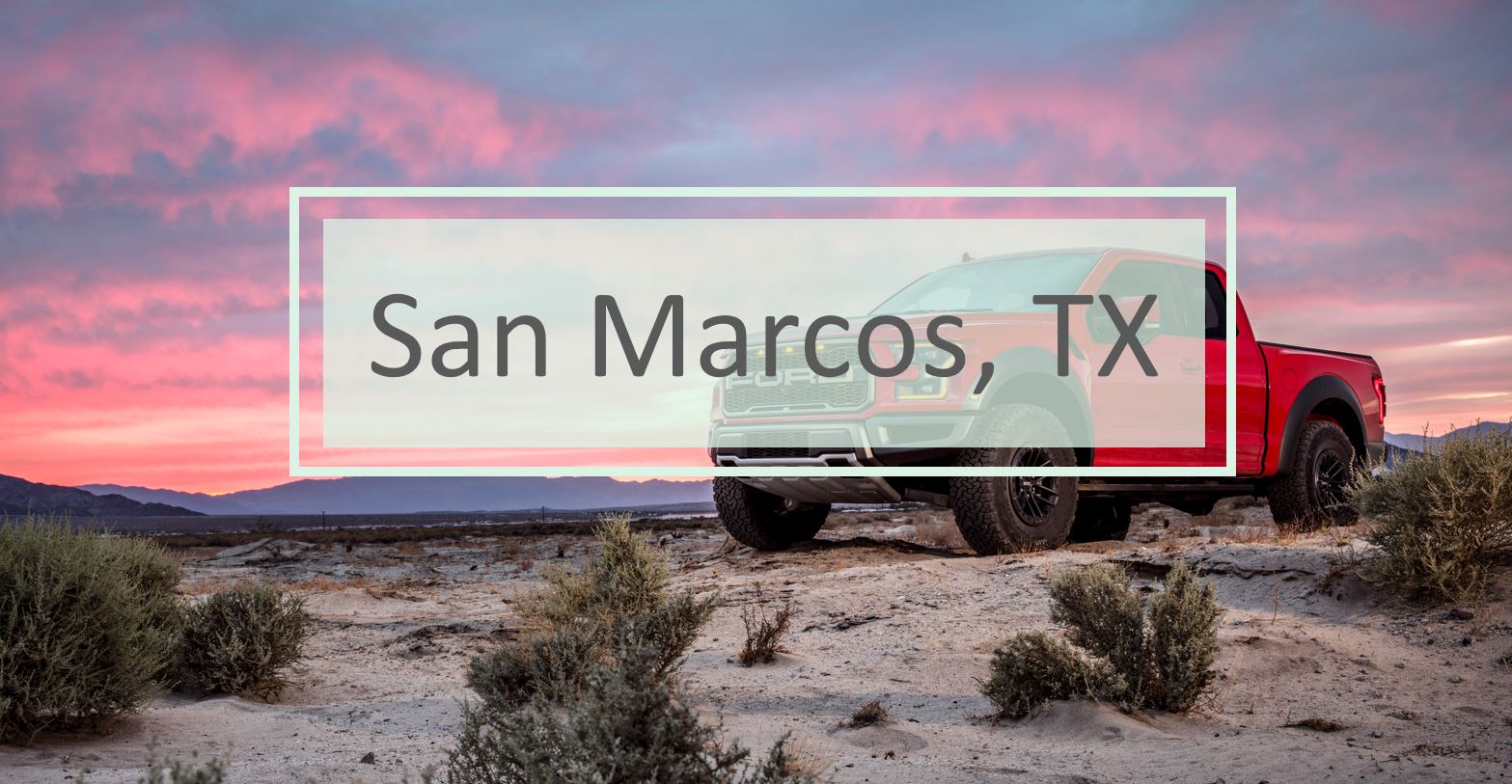 About Griffith Ford Near San Marcos, TX
If you are looking for a new or previously owned Ford vehicle that is highly reliable and are located in the greater San Marcos, TX area, the highly knowledgeable team at Griffith Ford are more than able to assist you. Whether you are looking for a car, SUV, or a truck, we are sure to have a vehicle in stock that your entire family will love for years to come. Our finance department offers both good and bad credit financing options and can work with a variety of different budget options.
Traveling to Griffith Ford
The trip to Griffith Ford will take approximately 26 minutes to complete and is 21.5 miles long. To begin with, start out by going northeast on S Interstate 35. You then need to turn right onto E McCarty Ln/FM-110 and then continue to follow FM-110. You then need to turn right onto N State Highway 123/TX-123. Afterwards, you should then make a slight right turn onto N Austin St/TX-513 Loop/TX-123 Bus. You will then need to make a right turn onto W Interstate 10.  You should then keep right at the fork to continue on W Interstate 10. Your final destination, Griffith Ford Seguin, 1880 W. Interstate 10 is on the right.
About San Marcos, TX
Though the town of San Marcos, TX, was formally settled in 1846, it has a history that goes back several thousand years further. It is believed that, due to its prime location near a river, that humans have lived in the area in some form or fashion for the last 10,000 years. In modern times, it has been the site of filming for several movies, such as Piranha.
Main Attractions in San Marcos, TX
No matter what kinds of activities you and your family are interested in, San Marcos, TX has a wide variety of activities for everyone to choose from, especially where food and drink are concerned. Some of the more popular choices among locals in the area include:
·         Pie Society
·         54th Street Restaurant
·         Cody's Restaurant Bar
·         Torchy's Tacos
 Sights in San Marcos, TX
There are a wide variety of different things that you and your family can do during your visit to San Marcos, including visiting such places as:
·         218 Co-Op Gallery: housed in historic downtown buildings, the gallery provides a warm backdrop for its displays of art, jewelry, sculpture, and functional wares.
·         Cheatham Street Warehouse: music venue with reverence and historical charm to spare.
·         Lions Club Tube Rental: company that rents out a wide variety of different tubes to go rafting in.
·         Longhorn Racing Academy: racetrack that allows prospective drivers to test and develop their formal car racing skills.